Orthopaedic Sports Medicine Center of Ioannina
"A modern and fully equipped facility"

Ultrasonography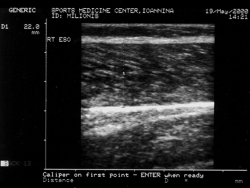 The use of ultrasonography in musculoskeletal imaging is a non invasive modality that has not known harmful effects on humans (it does not use ionizing radiation) and is well tolerated by specific groups of patients, like children, claustrophobics, patients with metallic implants in whom magntetic resonance imaging (MRI) or Computed Tomography (CT) scanning is not indicated or is difficult.
Additionally the 'real-time' capability of ultrasound examination allows dynamic evaluation of the examined stractures.
It provides valuable information about tendons, ligaments, soft tissues and sometimes even about bones.
Specifically ulltrasonography is widely use in the evaluation of shoulder pathology. The accuracy of this method in the diagnosis of rotator cuff tears is reported to range from 67% to 100% and its specificity from 85 to 100%.
In addition it is important diagnostic tool for the Achilles and Quadriceps tendon injuries.
In the knee joint it is used for the diagnosis and the follow up of tendon and ligament injuries as well as Baker cysts. New data exist for the use of ultrasonography in the diagnosis of meniscal tears and anterior cruciate ligament tears. Finally important is its role in the diagnosis and follow up of muscles injuries.